Site Changes and Updates – Spring 2018
|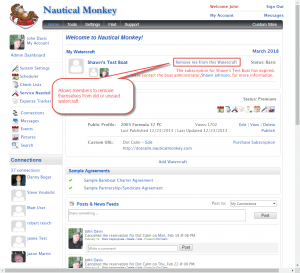 We've been collecting user suggestions and bugs all winter and just published the fixes. Please take a moment to look through the updates to make sure yours was done. If not, reach out and let me know.
Remove me from this Watercraft
This new function allows a member (as opposed to an administrator) to remove herself from the watercraft. This is useful with old sharing arraignments and test boats. It's a slightly dangerous function to have, so make sure if you click it, you really meant to remove yourself from the boat.
The Infamous "Remind me to spend some time on my boat" notification
This has now been set to off for all users – it was a bad idea. The setting is still there in case we have someone who wants to be reminded as unlikely as that may be.

Reservation Notifications
We have a large number of notification options which can be found on the Notification Settings tab in your My Account section. We have added the ability for non-administrative members to receive notifications when another member makes a reservation. This may be helpful when planning future trips, etc.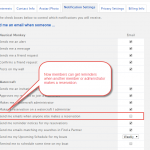 Notification of Credit Card Expiration – Archived Transactions
You will now be notified in advance if your credit card will expire before the next billing cycle. This will help prevent disruptions in service for you and your members.
Additionally, your payment history will still display after you have cancelled a subscription so you have access to your billing history even if you have cancelled the subscription to Nautical Monkey.
Service Requests – Ability to re-open and Edit
Do to some oversite that can't be explained, previously we did not allow closed service requests to be opened or even viewed again. That has now been changed and you will have full access to all historical service requests.
Bug Fixes
Ability to Cancel Reservations

. In some instances, only administrators could cancel reservations – e.g., regular members could not even cancel their own reservations. This has been fixed.

Using Free Booking Period

. The free time booking period is a setting that allows a member to book the boat without using any of their slots if the boat is not taken the specified amount of time prior to the booking. So, if you set this to 24 hours and the boat was free, a member could take the slot without expending one of her uses. A bug prevented this for some members and has been fixed.

Using Swap Requests

. Swap requests allow members to let another member know that they are interested in one of their slots. If the member who owns the slot knows she isn't going to use it, she can accept the swap request and the slot is transferred to the requesting member. A bug prevented this from working for some users and has now been fixed.

"What time should the first slot begin" bug in Scheduler Settings

. If the scheduler settings are set to a single slot per day, and the first time slot is set for later than 12 (noon), the scheduler throws an error message "To date must be greater than From date" because it thinks we are trying to scheduler a slot with the start date the same as the end date – which is not possible with single day scheduling. We changed this to have that drop down to display only times that will work – 4am to 11am – which makes more sense anyway.
Let us know of any bugs or functionality requests we may have missed and thanks for using Nautical Monkey.